Project Experience
Mountnessing Windmill
Mountnessing Windmill was built in 1807, replacing an earlier mill.  There are records of a windmill here before 1477. The mill was working until 1924. It was restored to working order between 1979 and 1983. A complete new roof was fitted and the tail of the mill rebuilt. Originally the mill would have had a wooden wind shaft and four common sails.
EBS Ltd was asked to inspect the Tail pole and the sail stocks at the poll end for wet rots and wood boring insects, including death watch beetle and woodworm.
We carried out a timber condition survey using a RESISTOGRAPH decay detection drill, which enables the cross section of large timbers to be assessed for decay.  The timbers were tested along their length until clear of decay and any decay plotted and given to the engineers for structural assessment.  The tail pole was found to be in very poor condition with decay in the centre of the beam.  This had to be renewed.  The sails were found to be sound and free of significant decay.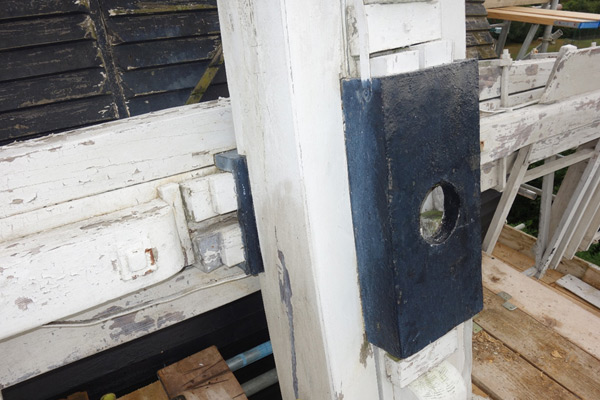 Sail stocks at the poll end.
EBS Ltd environmental control of timber decay and our conservation approach to repairs kept renewals to a minimum and saved much of the historic fabric.  No remedial chemical treatment or spraying with chemical/pesticide was required.