Project Experience
RAF Hospital, Rauceby
The hospital construction began in 1897 and was completed in 1902. In 1940 the building was taken over by the Royal Air Force and renamed as No.4 RAF Hospital Rauceby. It became a crash and burns unit. The hospital closed in 1997 and after standing unused is now in a deteriorating state of repair. The site is to be redeveloped reusing parts of the original buildings that remain.
EBS Ltd was asked to carry out a risk management survey and to provide pragmatic cost effective remediation strategies.
These included inspection of the buildings to assess the overall condition regarding the structural timbers and moisture damage to the structures. It was found that considerable damage to historic structure and components had occurred due to missing roof finishes and broken and missing rainwater goods. This encompassed extensive dry rot out breaks and wet rots (including Coniophora puteana, Asterostroma).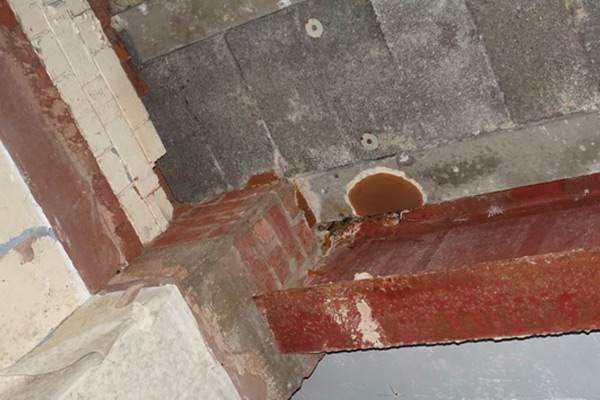 Coniophora puteana, Asterostroma
Fortunately the first floor structure was of concrete construction and remained intact. Areas of the roof, which still had intact roof finishes, were found to be structurally sound and could be reused. All the vulnerable structural timber elements were inspected with high power endoscopes and deep moisture profiles were undertaken. Recommendations were put forward to detail the timber repairs to keep the timber dry and reduce the risk of future infestation and decay.
The buildings were heavily contaminated with pigeon guano and needed to be made pigeon proof before removal of the guano. EBS Ltd highlighted the health hazards associated with pigeon guano and mould infestation and appropriate recommendations were provided for environmental management.
It was originally thought that none of the timber structures would be salvageable, however following our inspection we found many could be reused and this saved a considerable amount of the original historic fabric.
Moth balling recommendation to stop further deterioration with minimum interventions and cost effective conservations repairs were provided which proved successful.