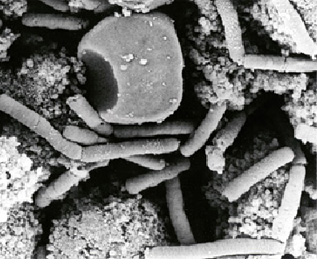 Anthrax
Bacillus anthracis is in Hazard Group 3. It is a biological agent that can cause severe human disease. Its spores may remain viable for centuries in material of animal origin. It may also present a risk of spreading to the community, but if properly uncovered and identified there is usually an effective prophylaxis or treatment available.
Historically, animal hair has been used regularly in construction, usually as an addition in the mixture of plaster, but occasionally it was used on ceilings to improve insulation.  If contaminated with Bacillus anthracis, it poses a serious hazard to anyone exposing it, even after many years of lying dormant within the fabric of the building.
Restoration and Refurbishment of Historic Buildings
Although regulations to combat Anthrax were introduced in 1919, they were virtually ineffective until the outbreak of the Second World War.  Thus, architects or those involved in refurbishment of historic buildings should be aware that sampling and analysis would be prudent in buildings over 65 years old to establish whether there is a problem.
The Control of Anthrax
Bacillus anthracis is subject to COSHH (Control of Substances Hazardous to Health) regulations. EBS can perform sampling and analysis to determine whether Bacillus anthracis is present, and can advise clients on appropriate removal techniques, and on procedures and briefings to ensure the safety of workers and occupants, and to comply with regulations.
Want to find out more?
For a friendly no obligation chat on this and any of our other services, please give us a call on 01908 266522 or email us on ebs@ebssurvey.co.uk. We'll help you find the right solution to your building problems.