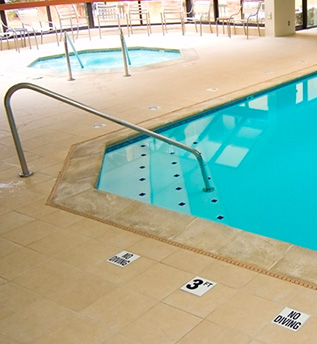 EBS Ltd investigates and identifies sources of water using non- destructive technologies, specialist moisture monitoring equipment, tracing and forensic techniques. We investigate leaks from boiler rooms; swimming pool way channels, wall tankings and hidden pipe work in walls, floors and concrete slabs.
We use a holistic approach to the pathology of pool structures, encompassing the environment and materials. This enables us to advise our clients how to develop conservation repairs and sustainable solutions to the building defects.
A Service to Loss Adjusters & Insurance Companies
EBS Ltd provides a service to loss adjusters and insurance companies following claims for damage caused by plumbing leaks, floods and swimming pool leaks.
Recently we investigated a swimming pool leak in a hotel in St Peters Port, Guernsey. Our surveyors carried out forensic investigations to determine the cause of water ingress in the boiler room and the swimming pool. We have expertise and experience in the following areas;
Determining the sources of leaks using tracer materials and dyes
Mapping out moisture sources and reservoirs using moisture monitoring techniques
Endoscopic inspection of voids and cavities to determine leaks in hidden pipe work within walls and floors
Investigating moisture distribution in floor slabs
Monitoring moisture that may lead to the development of mould. Its impact on indoor air quality and health of the occupants/operatives
Evaluating live and dead, hidden toxic mould spores and toxins
Chemical Free Solutions to Mould & Indoor Air Quality
EBS Ltd carries out investigations using non-destructive instrumentation and up to date technologies. We back up our results with extensive laboratory studies. This in turn allows us to determine the source, type, extent and cause of the water damage. We provide chemical free solutions to mould and indoor air quality. This non-destructive approach saves considerable costs and can make significant building repairs unnecessary.
Want to find out more?
For a friendly no obligation chat on this and any of our other services, please give us a call on 01908 266522 or email us on ebs@ebssurvey.co.uk. We'll help you find the right solution to your building problems.